Mirror Image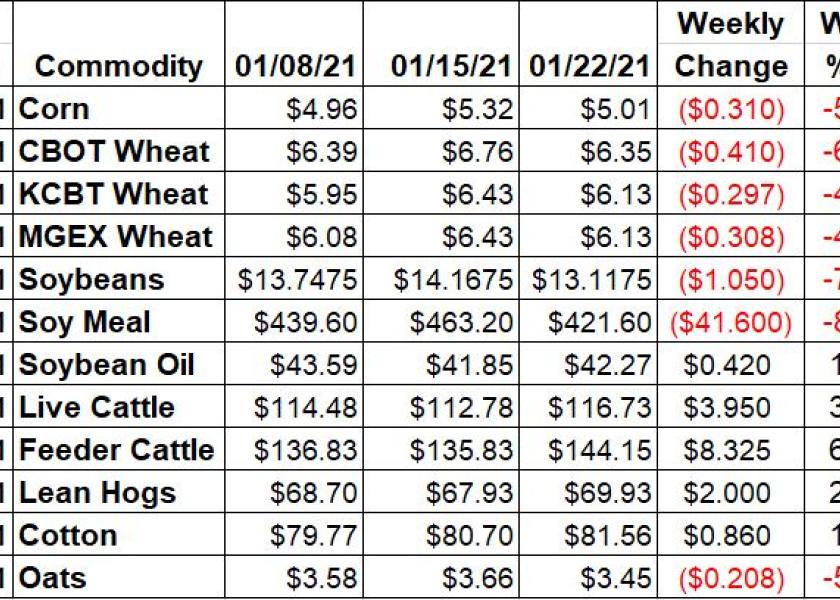 ?
Market Watch with Alan Brugler
January 22, 2021
Mirror Image Week
The net change table for the previous week had a "haves and have nots" flavor. The grains and oilseeds were continuing their rally, while livestock lagged. This week, the weather warmed up in the Midwest, but grain prices melted down. We still see the haves and have nots pattern, but it is a mirror image. This week grains and oilseeds have the big losses while livestock futures put up some nice gains. While some attributed the reversal to political changes in Washington, or to South American weather becoming more benign, we think most of it was just the market being mean reverting. Prices became too extreme, too overbought or oversold.? Profit taking and bottom picking chased them back toward long term averages. Technical sell signals tripped and selling snowballed in the grains and oilseeds on Friday.
Corn futures ran into a brick wall, down 31 cents (-5.8%) for the week. March touched limit down on Friday before a little short covering into the close. This was after posting the highest weekly close since July 2013 the previous week. Thursday's USDA Export Sales report showed 1.438 MMT from the week ending 1/14. Total YTD export commitments are 46.820 MMT (1.843 billion bushels) through January 14. That is 72% of the USDA export projection, compared to the 56% average for this date. Accumulated exports are picking up the pace at 27% of the WASDE forecast. The 5 year average is 28%.? Friday's Commitment of Traders report showed the large managed money speculator funds cutting their long exposure in corn after the USDA report on the 12th. They reduced it 25,219 contracts to a net long position of 349,495 contracts the week ending January 19. The all time record net long was 429,189, set back in September 2010.
The three wheat futures markets surged higher last week and tanked this week. CBT futures were down 6.1% for the week, with KC HRW down 4.6% (but still up 18 cents per bushel from two weeks ago).? Minneapolis spring wheat was down 4.8%. Weekly wheat export sales were improved, at 329,600 221,900 MT. Total export commitments rose to 21.567 MMT, up 6% from last year at this time. That is 80% of the USDA projected 20/21 export total, compared to the average pace of 82% for this date. The CFTC report showed managed money spec funds added to their net long in CBT wheat last week. It was up 3,631 contracts to 20,618 as of Jan 19. They added another 3,031 contracts to the much larger KC net long, taking it up to 58,093 contracts just in time for the late week sell off. ?
Soybean futures erased more than two weeks of gains, losing 7.41% this week.? A $41.60/ton plunge in soybean meal drove product value down, as Argentine crushers and exporters got back to full operation. Soybean oil was up 1% on unwinding of meal/oil spreads.? USDA released weekly export sales data on Friday, showing 1.8177 MMT of US old crop sales for the week and another 831,000 MT for 2021/22 shipment. Soymeal bookings were higher than the previous week at 468,500 MT, a new marketing year high.? Soy oil sales were also strong at 52,300 MT. Keep in mind that these sales were made January 7-14, around the time of the USDA crop reports.? The soybean export commitments for the year are now 57.367 MMT, or 2.107 bbu. That is 95% of the USDA forecast, compared to the 5-year average pace of 75%. Shipments are 71% of that projection vs. 54% on average. The large managed money spec funds reduced their net long in soybeans by another 14,587 contracts in the week ending Jan 19. That's three weeks in a row. Their CFTC net long position was 151,898 contracts as of that date, down 36% from the peak in October.
Cotton futures were up 1.1%, avoiding the carnage in the grains and oilseeds on Friday (and likely picking up prospective 2021 acreage without trying too hard). USDA's weekly Export Sales report showed upland cotton sales for the week ending 1/14 were 292,400 RBs. Export commitments are now 12.157 million RB, which is 86% of the USDA forecast vs. the 76% average pace. Accumulated shipments are 6.12 million RB, which is 43% of the projected 20/21 total. The average pace would be 29%. The AWP for cotton was increased 0.47 to 66.70 cents/lb, good through next Thursday. The Commitment of Traders report confirmed that the large speculator funds are still heavily long cotton. They reduced that net position by 1,849 contracts in the week ending 1/19, taking it to 67,853 net long.
Live cattle futures shot up 3.5% this week, rallying boldly into the Friday afternoon COF report. Cash trade this week was mostly $109-111, steady to down $1 on the week. Northern carcass business was mostly $169-173 in the beef, down $1 or more.? Feeder futures were up 6.1% this week, benefitting from both lower feed costs and higher cattle futures. The CME feeder cattle index was $133.99, down 46 cents from last week. Wholesale beef prices were solidly higher this week. Choice boxes were up 4.6% or $9.90/cwt, with Select up 5.1% or $10.26. USDA estimated weekly cattle slaughter at 657,000 head, up 6,000 from last week and 13,000 above the same week in 2020. Weekly beef export sales through 1/14 were much improved at 24,500 MT. The CFTC report on Friday afternoon showed the large spec funds adding 3,400 contracts to their net long in the week ending January 19, putting it at 46,227 contracts. The USDA Cattle on Feed report issued Friday afternoon showed larger than expected December placements (2nd largest ever for December) and record large December marketings at 101.04% of year ago. The net result was a very slight increase (0.06%) in January 1 Cattle on Feed vs. last year.
Lean hog futures were a mirror image of the previous week, rallying 2.9% after losing 1.1% the week before. February continues to work toward convergence with the Index. The CME Lean Hog index was down 47 cents this week at $65.40. The pork carcass cutout value rose $2.76 this week, i.e. 3.4%. The pork belly primal shot up $13.55/cwt to boost the overall cutout value after being the big loser of $12.78/cwt the previous week. Weekly hog slaughter was estimated at 2.738 million head by USDA, about 97,000 head above last week and 31,000 more than the same week in 2020. USDA reported net pork sales on the week were nearly double the previous week at 45,200 MT. Shipments were also higher at 40,800 MT. China was the destination for 10,600 MT.? China is going to restrict Lunar New Year celebrations in some areas due to new COVID-19 outbreaks, but also saw new cases of ASF in the hog herd. These were the first officially reported since last fall. The CFTC reported that managed money spec funds reduced their hog net long last week by 2,664 contracts of futures and options, trimming it to 36,078 contracts as of January 19.

Market Watch
Cattle traders will begin Monday reacting to the larger than expected numbers on feed from Friday's COF report. Grain traders will be reacting to surprise futures positions inherited following February serial options expiration on Friday. Monday grain action starts with the Export Inspections report. The Fed Open Market Committee meets on Tuesday and Wednesday. The market is expecting a statement that they are committed to keeping interest rates low. We will get an update on weekly ethanol production and stocks from EIA on Wednesday. January feeder cattle futures expire on Thursday, which will also include the USDA weekly Export Sales report. Friday will mark the release of the semi-annual USDA Cattle Inventory report. ?
Visit our Brugler web site at https://www.bruglermarketing.com or call 402-697-3623 for more information on our consulting and advisory services for farm family enterprises and agribusinesses. ?
There is a risk of loss in futures and options trading. Similar risks exist for cash commodity producers. Past performance is not necessarily indicative of future results.
Copyright 2021 Brugler Marketing & Management, LLC.? All rights reserved.
?